Welcome To Clockwork Goblin Miniatures
Welcome,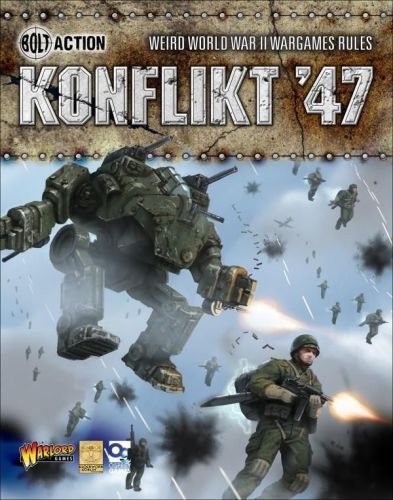 Clockwork Goblin Miniatures are the team behind Warlord Games' highly successful alternate World War II game, Konflikt '47. The small team of three part time wargamers continues to develop new additions to the game and has an abundance of plans for the future.
Konflikt '47 is a standalone game inspired by Warlord's hugely successful Bolt Action. Adding to the core rules that many gamers are familiar with from Bolt Action, Konflikt '47 allows the addition of completely new types of units and models to existing 28mm Bolt Action armies and the creation of completely new forces set in the alternate future of 1947.
The full range of Konflikt '47 miniatures can be found here.
We have a selection of downloads and resources available on our Resources page, including the latest errata, FAQ and new rules for the game.
In addition to our efforts delivering Konflikt '47, the team are in the process of regenerating our original 15mm range of models. These are available direct from here on the site, with more products coming online shortly.
NOTE TO EU CUSTOMERS. We are exploring options to avoid the extra customs costs that shipping packages to the EU can generate. Currently we are finding solutions difficult based on the scale of our business And the bureaucracy involved. As soon as we can work a solution we'll get it in place.